multi_physics/biot_parallel_interactive.py¶
Description
Parallel assembling and solving of a Biot problem (deformable porous medium), using commands for interactive use.
Find

,

such that:

where

Important Notes¶
This example requires petsc4py, mpi4py and (optionally) pymetis with their dependencies installed!

This example generates a number of files - do not use an existing non-empty directory for the output_dir argument.

Use the --clear option with care!
Notes¶
Each task is responsible for a subdomain consisting of a set of cells (a cell region).

Each subdomain owns PETSc DOFs within a consecutive range.

When both global and task-local variables exist, the task-local variables have _i suffix.

This example shows how to use a nonlinear solver from PETSc.

This example can serve as a template for solving a (non)linear multi-field problem - just replace the equations in create_local_problem().

The material parameter is artificially high to be able to see the pressure influence on displacements.

The command line options are saved into <output_dir>/options.txt file.
Usage Examples¶
See all options:
python3

 

sfepy

/

examples

/

multi_physics

/

biot_parallel_interactive

.

py

 

-

h



See PETSc options:
python3

 

sfepy

/

examples

/

multi_physics

/

biot_parallel_interactive

.

py

 

-

help



Single process run useful for debugging with debug():
python3

 

sfepy

/

examples

/

multi_physics

/

biot_parallel_interactive

.

py

 

output

-

parallel



Parallel runs:
mpiexec

 

-

n

 

3

 

python3

 

sfepy

/

examples

/

multi_physics

/

biot_parallel_interactive

.

py

 

output

-

parallel

 

-

2

 

--

shape

=

101

,

101





mpiexec

 

-

n

 

3

 

python3

 

sfepy

/

examples

/

multi_physics

/

biot_parallel_interactive

.

py

 

output

-

parallel

 

-

2

 

--

shape

=

101

,

101

 

--

metis





mpiexec

 

-

n

 

8

 

python3

 

sfepy

/

examples

/

multi_physics

/

biot_parallel_interactive

.

py

 

output

-

parallel

 

-

2

 

--

shape

 

101

,

101

 

--

metis

 

-

snes_monitor

 

-

snes_view

 

-

snes_converged_reason

 

-

ksp_monitor



Using FieldSplit preconditioner:
mpiexec

 

-

n

 

2

 

python3

 

sfepy

/

examples

/

multi_physics

/

biot_parallel_interactive

.

py

 

output

-

parallel

 

--

shape

=

101

,

101

 

-

snes_monitor

 

-

snes_converged_reason

 

-

ksp_monitor

 

-

pc_type

 

fieldsplit





mpiexec

 

-

n

 

8

 

python3

 

sfepy

/

examples

/

multi_physics

/

biot_parallel_interactive

.

py

 

output

-

parallel

 

--

shape

=

1001

,

1001

 

--

metis

 

-

snes_monitor

 

-

snes_converged_reason

 

-

ksp_monitor

 

-

pc_type

 

fieldsplit

 

-

pc_fieldsplit_type

 

additive



View the results using:
sfepy

-

view

 

output

-

parallel

/

sol

.

h5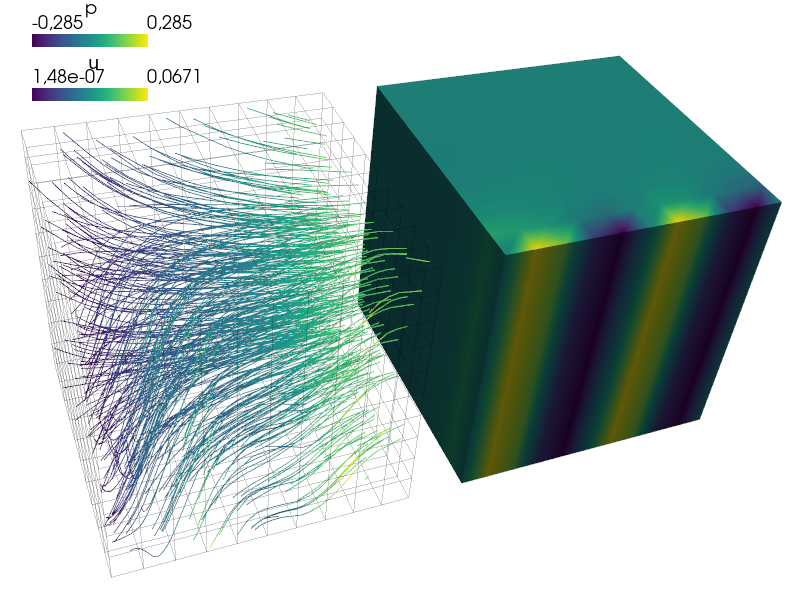 #!/usr/bin/env python




r

"""




Parallel assembling and solving of a Biot problem (deformable porous medium),




using commands for interactive use.





Find :math:`\ul{u}`, :math:`p` such that:





.. math::




    \int_{\Omega} D_{ijkl}\ e_{ij}(\ul{v}) e_{kl}(\ul{u})




    - \int_{\Omega}  p\ \alpha_{ij} e_{ij}(\ul{v})




    = 0




    \;, \quad \forall \ul{v} \;,





    \int_{\Omega} q\ \alpha_{ij} e_{ij}(\ul{u})




    + \int_{\Omega} K_{ij} \nabla_i q \nabla_j p




    = 0




    \;, \quad \forall q \;,





where





.. math::




    D_{ijkl} = \mu (\delta_{ik} \delta_{jl}+\delta_{il} \delta_{jk}) +




    \lambda \ \delta_{ij} \delta_{kl}




    \;.





Important Notes




---------------





- This example requires petsc4py, mpi4py and (optionally) pymetis with their




  dependencies installed!




- This example generates a number of files - do not use an existing non-empty




  directory for the ``output_dir`` argument.




- Use the ``--clear`` option with care!





Notes




-----





- Each task is responsible for a subdomain consisting of a set of cells (a cell




  region).




- Each subdomain owns PETSc DOFs within a consecutive range.




- When both global and task-local variables exist, the task-local




  variables have ``_i`` suffix.




- This example shows how to use a nonlinear solver from PETSc.




- This example can serve as a template for solving a (non)linear multi-field




  problem - just replace the equations in :func:`create_local_problem()`.




- The material parameter :math:`\alpha_{ij}` is artificially high to be able to




  see the pressure influence on displacements.




- The command line options are saved into <output_dir>/options.txt file.





Usage Examples




--------------





See all options::





  python3 sfepy/examples/multi_physics/biot_parallel_interactive.py -h





See PETSc options::





  python3 sfepy/examples/multi_physics/biot_parallel_interactive.py -help





Single process run useful for debugging with :func:`debug()




<sfepy.base.base.debug>`::





  python3 sfepy/examples/multi_physics/biot_parallel_interactive.py output-parallel





Parallel runs::





  mpiexec -n 3 python3 sfepy/examples/multi_physics/biot_parallel_interactive.py output-parallel -2 --shape=101,101





  mpiexec -n 3 python3 sfepy/examples/multi_physics/biot_parallel_interactive.py output-parallel -2 --shape=101,101 --metis





  mpiexec -n 8 python3 sfepy/examples/multi_physics/biot_parallel_interactive.py output-parallel -2 --shape 101,101 --metis -snes_monitor -snes_view -snes_converged_reason -ksp_monitor





Using FieldSplit preconditioner::





  mpiexec -n 2 python3 sfepy/examples/multi_physics/biot_parallel_interactive.py output-parallel --shape=101,101 -snes_monitor -snes_converged_reason -ksp_monitor -pc_type fieldsplit





  mpiexec -n 8 python3 sfepy/examples/multi_physics/biot_parallel_interactive.py output-parallel --shape=1001,1001 --metis -snes_monitor -snes_converged_reason -ksp_monitor -pc_type fieldsplit -pc_fieldsplit_type additive





View the results using::





  sfepy-view output-parallel/sol.h5




"""




from

 

__future__

 

import

 

absolute_import




from

 

argparse

 

import

 

RawDescriptionHelpFormatter

,

 

ArgumentParser




import

 

os




import

 

sys




sys

.

path

.

append

(

'.'

)





import

 

numpy

 

as

 

nm





from

 

sfepy.base.base

 

import

 

output

,

 

Struct




from

 

sfepy.base.ioutils

 

import

 

ensure_path

,

 

remove_files_patterns

,

 

save_options




from

 

sfepy.base.timing

 

import

 

Timer




from

 

sfepy.discrete.fem

 

import

 

Mesh

,

 

FEDomain

,

 

Field




from

 

sfepy.discrete.common.region

 

import

 

Region




from

 

sfepy.discrete

 

import

 

(

FieldVariable

,

 

Material

,

 

Integral

,

 

Function

,


                            

Equation

,

 

Equations

,

 

Problem

)




from

 

sfepy.discrete.conditions

 

import

 

Conditions

,

 

EssentialBC




from

 

sfepy.terms

 

import

 

Term




from

 

sfepy.solvers.ls

 

import

 

PETScKrylovSolver




from

 

sfepy.solvers.nls

 

import

 

PETScNonlinearSolver




from

 

sfepy.mechanics.matcoefs

 

import

 

stiffness_from_lame





import

 

sfepy.parallel.parallel

 

as

 

pl




from

 

sfepy.parallel.evaluate

 

import

 

PETScParallelEvaluator





def

 

create_local_problem

(

omega_gi

,

 

orders

):




    

"""




    Local problem definition using a domain corresponding to the global region




    `omega_gi`.




    """


    

order_u

,

 

order_p

 

=

 

orders



    

mesh

 

=

 

omega_gi

.

domain

.

mesh



    

# All tasks have the whole mesh.


    

bbox

 

=

 

mesh

.

get_bounding_box

()


    

min_x

,

 

max_x

 

=

 

bbox

[:,

 

0

]


    

eps_x

 

=

 

1e-8

 

*

 

(

max_x

 

-

 

min_x

)



    

min_y

,

 

max_y

 

=

 

bbox

[:,

 

1

]


    

eps_y

 

=

 

1e-8

 

*

 

(

max_y

 

-

 

min_y

)



    

mesh_i

 

=

 

Mesh

.

from_region

(

omega_gi

,

 

mesh

,

 

localize

=

True

)


    

domain_i

 

=

 

FEDomain

(

'domain_i'

,

 

mesh_i

)


    

omega_i

 

=

 

domain_i

.

create_region

(

'Omega'

,

 

'all'

)



    

gamma1_i

 

=

 

domain_i

.

create_region

(

'Gamma1'

,


                                      

'vertices in (x < 

%.10f

)'


                                      

%

 

(

min_x

 

+

 

eps_x

),


                                      

'facet'

,

 

allow_empty

=

True

)


    

gamma2_i

 

=

 

domain_i

.

create_region

(

'Gamma2'

,


                                      

'vertices in (x > 

%.10f

)'


                                      

%

 

(

max_x

 

-

 

eps_x

),


                                      

'facet'

,

 

allow_empty

=

True

)


    

gamma3_i

 

=

 

domain_i

.

create_region

(

'Gamma3'

,


                                      

'vertices in (y < 

%.10f

)'


                                      

%

 

(

min_y

 

+

 

eps_y

),


                                      

'facet'

,

 

allow_empty

=

True

)



    

field1_i

 

=

 

Field

.

from_args

(

'fu'

,

 

nm

.

float64

,

 

mesh

.

dim

,

 

omega_i

,


                               

approx_order

=

order_u

)



    

field2_i

 

=

 

Field

.

from_args

(

'fp'

,

 

nm

.

float64

,

 

1

,

 

omega_i

,


                               

approx_order

=

order_p

)



    

output

(

'field 1: number of local DOFs:'

,

 

field1_i

.

n_nod

)


    

output

(

'field 2: number of local DOFs:'

,

 

field2_i

.

n_nod

)



    

u_i

 

=

 

FieldVariable

(

'u_i'

,

 

'unknown'

,

 

field1_i

,

 

order

=

0

)


    

v_i

 

=

 

FieldVariable

(

'v_i'

,

 

'test'

,

 

field1_i

,

 

primary_var_name

=

'u_i'

)


    

p_i

 

=

 

FieldVariable

(

'p_i'

,

 

'unknown'

,

 

field2_i

,

 

order

=

1

)


    

q_i

 

=

 

FieldVariable

(

'q_i'

,

 

'test'

,

 

field2_i

,

 

primary_var_name

=

'p_i'

)



    

if

 

mesh

.

dim

 

==

 

2

:


        

alpha

 

=

 

1e2

 

*

 

nm

.

array

([[

0.132

],

 

[

0.132

],

 

[

0.092

]])



    

else

:


        

alpha

 

=

 

1e2

 

*

 

nm

.

array

([[

0.132

],

 

[

0.132

],

 

[

0.132

],


                                

[

0.092

],

 

[

0.092

],

 

[

0.092

]])



    

mat

 

=

 

Material

(

'm'

,

 

D

=

stiffness_from_lame

(

mesh

.

dim

,

 

lam

=

10

,

 

mu

=

5

),


                   

k

=

1

,

 

alpha

=

alpha

)


    

integral

 

=

 

Integral

(

'i'

,

 

order

=

2

*

(

max

(

order_u

,

 

order_p

)))



    

t11

 

=

 

Term

.

new

(

'dw_lin_elastic(m.D, v_i, u_i)'

,


                   

integral

,

 

omega_i

,

 

m

=

mat

,

 

v_i

=

v_i

,

 

u_i

=

u_i

)


    

t12

 

=

 

Term

.

new

(

'dw_biot(m.alpha, v_i, p_i)'

,


                   

integral

,

 

omega_i

,

 

m

=

mat

,

 

v_i

=

v_i

,

 

p_i

=

p_i

)


    

t21

 

=

 

Term

.

new

(

'dw_biot(m.alpha, u_i, q_i)'

,


                   

integral

,

 

omega_i

,

 

m

=

mat

,

 

u_i

=

u_i

,

 

q_i

=

q_i

)


    

t22

 

=

 

Term

.

new

(

'dw_laplace(m.k, q_i, p_i)'

,


                   

integral

,

 

omega_i

,

 

m

=

mat

,

 

q_i

=

q_i

,

 

p_i

=

p_i

)



    

eq1

 

=

 

Equation

(

'eq1'

,

 

t11

 

-

 

t12

)


    

eq2

 

=

 

Equation

(

'eq1'

,

 

t21

 

+

 

t22

)


    

eqs

 

=

 

Equations

([

eq1

,

 

eq2

])



    

ebc1

 

=

 

EssentialBC

(

'ebc1'

,

 

gamma1_i

,

 

{

'u_i.all'

 

:

 

0.0

})


    

ebc2

 

=

 

EssentialBC

(

'ebc2'

,

 

gamma2_i

,

 

{

'u_i.0'

 

:

 

0.05

})


    

def

 

bc_fun

(

ts

,

 

coors

,

 

**

kwargs

):


        

val

 

=

 

0.3

 

*

 

nm

.

sin

(

4

 

*

 

nm

.

pi

 

*

 

(

coors

[:,

 

0

]

 

-

 

min_x

)

 

/

 

(

max_x

 

-

 

min_x

))


        

return

 

val



    

fun

 

=

 

Function

(

'bc_fun'

,

 

bc_fun

)


    

ebc3

 

=

 

EssentialBC

(

'ebc3'

,

 

gamma3_i

,

 

{

'p_i.all'

 

:

 

fun

})



    

pb

 

=

 

Problem

(

'problem_i'

,

 

equations

=

eqs

,

 

active_only

=

False

)


    

pb

.

time_update

(

ebcs

=

Conditions

([

ebc1

,

 

ebc2

,

 

ebc3

]))


    

pb

.

update_materials

()



    

return

 

pb





def

 

solve_problem

(

mesh_filename

,

 

options

,

 

comm

):


    

order_u

 

=

 

options

.

order_u


    

order_p

 

=

 

options

.

order_p



    

rank

,

 

size

 

=

 

comm

.

Get_rank

(),

 

comm

.

Get_size

()



    

output

(

'rank'

,

 

rank

,

 

'of'

,

 

size

)



    

stats

 

=

 

Struct

()


    

timer

 

=

 

Timer

(

'solve_timer'

)



    

timer

.

start

()


    

mesh

 

=

 

Mesh

.

from_file

(

mesh_filename

)


    

stats

.

t_read_mesh

 

=

 

timer

.

stop

()



    

timer

.

start

()


    

if

 

rank

 

==

 

0

:


        

cell_tasks

 

=

 

pl

.

partition_mesh

(

mesh

,

 

size

,

 

use_metis

=

options

.

metis

,


                                       

verbose

=

True

)



    

else

:


        

cell_tasks

 

=

 

None



    

stats

.

t_partition_mesh

 

=

 

timer

.

stop

()



    

output

(

'creating global domain and fields...'

)


    

timer

.

start

()



    

domain

 

=

 

FEDomain

(

'domain'

,

 

mesh

)


    

omega

 

=

 

domain

.

create_region

(

'Omega'

,

 

'all'

)


    

field1

 

=

 

Field

.

from_args

(

'fu'

,

 

nm

.

float64

,

 

mesh

.

dim

,

 

omega

,


                             

approx_order

=

order_u

)


    

field2

 

=

 

Field

.

from_args

(

'fp'

,

 

nm

.

float64

,

 

1

,

 

omega

,


                             

approx_order

=

order_p

)


    

fields

 

=

 

[

field1

,

 

field2

]



    

stats

.

t_create_global_fields

 

=

 

timer

.

stop

()


    

output

(

'...done in'

,

 

timer

.

dt

)



    

output

(

'distributing fields...'

)


    

timer

.

start

()



    

distribute

 

=

 

pl

.

distribute_fields_dofs


    

lfds

,

 

gfds

 

=

 

distribute

(

fields

,

 

cell_tasks

,


                            

is_overlap

=

True

,


                            

use_expand_dofs

=

True

,


                            

save_inter_regions

=

options

.

save_inter_regions

,


                            

output_dir

=

options

.

output_dir

,


                            

comm

=

comm

,

 

verbose

=

True

)



    

stats

.

t_distribute_fields_dofs

 

=

 

timer

.

stop

()


    

output

(

'...done in'

,

 

timer

.

dt

)



    

output

(

'creating local problem...'

)


    

timer

.

start

()



    

cells

 

=

 

lfds

[

0

]

.

cells



    

omega_gi

 

=

 

Region

.

from_cells

(

cells

,

 

domain

)


    

omega_gi

.

finalize

()


    

omega_gi

.

update_shape

()



    

pb

 

=

 

create_local_problem

(

omega_gi

,

 

[

order_u

,

 

order_p

])



    

variables

 

=

 

pb

.

get_initial_state

()



    

variables

.

fill_state

(

0.0

)


    

variables

.

apply_ebc

()



    

stats

.

t_create_local_problem

 

=

 

timer

.

stop

()


    

output

(

'...done in'

,

 

timer

.

dt

)



    

output

(

'allocating global system...'

)


    

timer

.

start

()



    

sizes

,

 

drange

,

 

pdofs

 

=

 

pl

.

setup_composite_dofs

(

lfds

,

 

fields

,

 

variables

,


                                                   

verbose

=

True

)


    

pmtx

,

 

psol

,

 

prhs

 

=

 

pl

.

create_petsc_system

(

pb

.

mtx_a

,

 

sizes

,

 

pdofs

,

 

drange

,


                                              

is_overlap

=

True

,

 

comm

=

comm

,


                                              

verbose

=

True

)



    

stats

.

t_allocate_global_system

 

=

 

timer

.

stop

()


    

output

(

'...done in'

,

 

timer

.

dt

)



    

output

(

'creating solver...'

)


    

timer

.

start

()



    

conf

 

=

 

Struct

(

method

=

'bcgsl'

,

 

precond

=

'jacobi'

,

 

sub_precond

=

'none'

,


                  

i_max

=

10000

,

 

eps_a

=

1e-50

,

 

eps_r

=

1e-6

,

 

eps_d

=

1e4

,


                  

verbose

=

True

)


    

status

 

=

 

{}


    

ls

 

=

 

PETScKrylovSolver

(

conf

,

 

comm

=

comm

,

 

mtx

=

pmtx

,

 

status

=

status

)



    

field_ranges

 

=

 

{}


    

for

 

ii

,

 

variable

 

in

 

enumerate

(

variables

.

iter_state

(

ordered

=

True

)):


        

field_ranges

[

variable

.

name

]

 

=

 

lfds

[

ii

]

.

petsc_dofs_range



    

ls

.

set_field_split

(

field_ranges

,

 

comm

=

comm

)



    

ev

 

=

 

PETScParallelEvaluator

(

pb

,

 

pdofs

,

 

drange

,

 

True

,


                                

psol

,

 

comm

,

 

verbose

=

True

)



    

nls_status

 

=

 

{}


    

conf

 

=

 

Struct

(

method

=

'newtonls'

,


                  

i_max

=

5

,

 

eps_a

=

0

,

 

eps_r

=

1e-5

,

 

eps_s

=

0.0

,


                  

verbose

=

True

)


    

nls

 

=

 

PETScNonlinearSolver

(

conf

,

 

pmtx

=

pmtx

,

 

prhs

=

prhs

,

 

comm

=

comm

,


                               

fun

=

ev

.

eval_residual

,


                               

fun_grad

=

ev

.

eval_tangent_matrix

,


                               

lin_solver

=

ls

,

 

status

=

nls_status

)



    

stats

.

t_create_solver

 

=

 

timer

.

stop

()


    

output

(

'...done in'

,

 

timer

.

dt

)



    

output

(

'solving...'

)


    

timer

.

start

()



    

variables

.

apply_ebc

()



    

ev

.

psol_i

[

...

]

 

=

 

variables

()


    

ev

.

gather

(

psol

,

 

ev

.

psol_i

)



    

psol

 

=

 

nls

(

psol

)



    

ev

.

scatter

(

ev

.

psol_i

,

 

psol

)


    

sol0_i

 

=

 

ev

.

psol_i

[

...

]



    

stats

.

t_solve

 

=

 

timer

.

stop

()


    

output

(

'...done in'

,

 

timer

.

dt

)



    

output

(

'saving solution...'

)


    

timer

.

start

()



    

variables

.

set_state

(

sol0_i

)


    

out

 

=

 

variables

.

create_output

()



    

filename

 

=

 

os

.

path

.

join

(

options

.

output_dir

,

 

'sol_

%02d

.h5'

 

%

 

comm

.

rank

)


    

pb

.

domain

.

mesh

.

write

(

filename

,

 

io

=

'auto'

,

 

out

=

out

)



    

gather_to_zero

 

=

 

pl

.

create_gather_to_zero

(

psol

)



    

psol_full

 

=

 

gather_to_zero

(

psol

)



    

if

 

comm

.

rank

 

==

 

0

:


        

sol

 

=

 

psol_full

[

...

]

.

copy

()



        

u

 

=

 

FieldVariable

(

'u'

,

 

'parameter'

,

 

field1

,


                          

primary_var_name

=

'(set-to-None)'

)


        

remap

 

=

 

gfds

[

0

]

.

id_map


        

ug

 

=

 

sol

[

remap

]



        

p

 

=

 

FieldVariable

(

'p'

,

 

'parameter'

,

 

field2

,


                          

primary_var_name

=

'(set-to-None)'

)


        

remap

 

=

 

gfds

[

1

]

.

id_map


        

pg

 

=

 

sol

[

remap

]



        

if

 

(((

order_u

 

==

 

1

)

 

and

 

(

order_p

 

==

 

1

))


            

or

 

(

options

.

linearization

 

==

 

'strip'

)):


            

out

 

=

 

u

.

create_output

(

ug

)


            

out

.

update

(

p

.

create_output

(

pg

))


            

filename

 

=

 

os

.

path

.

join

(

options

.

output_dir

,

 

'sol.h5'

)


            

mesh

.

write

(

filename

,

 

io

=

'auto'

,

 

out

=

out

)



        

else

:


            

out

 

=

 

u

.

create_output

(

ug

,

 

linearization

=

Struct

(

kind

=

'adaptive'

,


                                                           

min_level

=

0

,


                                                           

max_level

=

order_u

,


                                                           

eps

=

1e-3

))



            

filename

 

=

 

os

.

path

.

join

(

options

.

output_dir

,

 

'sol_u.h5'

)


            

out

[

'u'

]

.

mesh

.

write

(

filename

,

 

io

=

'auto'

,

 

out

=

out

)



            

out

 

=

 

p

.

create_output

(

pg

,

 

linearization

=

Struct

(

kind

=

'adaptive'

,


                                                           

min_level

=

0

,


                                                           

max_level

=

order_p

,


                                                           

eps

=

1e-3

))



            

filename

 

=

 

os

.

path

.

join

(

options

.

output_dir

,

 

'sol_p.h5'

)


            

out

[

'p'

]

.

mesh

.

write

(

filename

,

 

io

=

'auto'

,

 

out

=

out

)



    

stats

.

t_save_solution

 

=

 

timer

.

stop

()


    

output

(

'...done in'

,

 

timer

.

dt

)



    

stats

.

t_total

 

=

 

timer

.

total



    

stats

.

n_dof

 

=

 

sizes

[

1

]


    

stats

.

n_dof_local

 

=

 

sizes

[

0

]


    

stats

.

n_cell

 

=

 

omega

.

shape

.

n_cell


    

stats

.

n_cell_local

 

=

 

omega_gi

.

shape

.

n_cell



    

return

 

stats





helps

 

=

 

{


    

'output_dir'

 

:


    

'output directory'

,


    

'dims'

 

:


    

'dimensions of the block [default: 

%(default)s

]'

,


    

'shape'

 

:


    

'shape (counts of nodes in x, y, z) of the block [default: 

%(default)s

]'

,


    

'centre'

 

:


    

'centre of the block [default: 

%(default)s

]'

,


    

'2d'

 

:


    

'generate a 2D rectangle, the third components of the above'


    

' options are ignored'

,


    

'u-order'

 

:


    

'displacement field approximation order'

,


    

'p-order'

 

:


    

'pressure field approximation order'

,


    

'linearization'

 

:


    

'linearization used for storing the results with approximation order > 1'


    

' [default: 

%(default)s

]'

,


    

'metis'

 

:


    

'use metis for domain partitioning'

,


    

'save_inter_regions'

 

:


    

'save inter-task regions for debugging partitioning problems'

,


    

'stats_filename'

 

:


    

'name of the stats file for storing elapsed time statistics'

,


    

'new_stats'

 

:


    

'create a new stats file with a header line (overwrites existing!)'

,


    

'silent'

 

:

 

'do not print messages to screen'

,


    

'clear'

 

:


    

'clear old solution files from output directory'


    

' (DANGEROUS - use with care!)'

,




}





def

 

main

():


    

parser

 

=

 

ArgumentParser

(

description

=

__doc__

.

rstrip

(),


                            

formatter_class

=

RawDescriptionHelpFormatter

)


    

parser

.

add_argument

(

'output_dir'

,

 

help

=

helps

[

'output_dir'

])


    

parser

.

add_argument

(

'--dims'

,

 

metavar

=

'dims'

,


                        

action

=

'store'

,

 

dest

=

'dims'

,


                        

default

=

'1.0,1.0,1.0'

,

 

help

=

helps

[

'dims'

])


    

parser

.

add_argument

(

'--shape'

,

 

metavar

=

'shape'

,


                        

action

=

'store'

,

 

dest

=

'shape'

,


                        

default

=

'11,11,11'

,

 

help

=

helps

[

'shape'

])


    

parser

.

add_argument

(

'--centre'

,

 

metavar

=

'centre'

,


                        

action

=

'store'

,

 

dest

=

'centre'

,


                        

default

=

'0.0,0.0,0.0'

,

 

help

=

helps

[

'centre'

])


    

parser

.

add_argument

(

'-2'

,

 

'--2d'

,


                        

action

=

'store_true'

,

 

dest

=

'is_2d'

,


                        

default

=

False

,

 

help

=

helps

[

'2d'

])


    

parser

.

add_argument

(

'--u-order'

,

 

metavar

=

'int'

,

 

type

=

int

,


                        

action

=

'store'

,

 

dest

=

'order_u'

,


                        

default

=

1

,

 

help

=

helps

[

'u-order'

])


    

parser

.

add_argument

(

'--p-order'

,

 

metavar

=

'int'

,

 

type

=

int

,


                        

action

=

'store'

,

 

dest

=

'order_p'

,


                        

default

=

1

,

 

help

=

helps

[

'p-order'

])


    

parser

.

add_argument

(

'--linearization'

,

 

choices

=

[

'strip'

,

 

'adaptive'

],


                        

action

=

'store'

,

 

dest

=

'linearization'

,


                        

default

=

'strip'

,

 

help

=

helps

[

'linearization'

])


    

parser

.

add_argument

(

'--metis'

,


                        

action

=

'store_true'

,

 

dest

=

'metis'

,


                        

default

=

False

,

 

help

=

helps

[

'metis'

])


    

parser

.

add_argument

(

'--save-inter-regions'

,


                        

action

=

'store_true'

,

 

dest

=

'save_inter_regions'

,


                        

default

=

False

,

 

help

=

helps

[

'save_inter_regions'

])


    

parser

.

add_argument

(

'--stats'

,

 

metavar

=

'filename'

,


                        

action

=

'store'

,

 

dest

=

'stats_filename'

,


                        

default

=

None

,

 

help

=

helps

[

'stats_filename'

])


    

parser

.

add_argument

(

'--new-stats'

,


                        

action

=

'store_true'

,

 

dest

=

'new_stats'

,


                        

default

=

False

,

 

help

=

helps

[

'new_stats'

])


    

parser

.

add_argument

(

'--silent'

,


                        

action

=

'store_true'

,

 

dest

=

'silent'

,


                        

default

=

False

,

 

help

=

helps

[

'silent'

])


    

parser

.

add_argument

(

'--clear'

,


                        

action

=

'store_true'

,

 

dest

=

'clear'

,


                        

default

=

False

,

 

help

=

helps

[

'clear'

])


    

options

,

 

petsc_opts

 

=

 

parser

.

parse_known_args

()



    

comm

 

=

 

pl

.

PETSc

.

COMM_WORLD



    

output_dir

 

=

 

options

.

output_dir



    

filename

 

=

 

os

.

path

.

join

(

output_dir

,

 

'output_log_

%02d

.txt'

 

%

 

comm

.

rank

)


    

if

 

comm

.

rank

 

==

 

0

:


        

ensure_path

(

filename

)


    

comm

.

barrier

()



    

output

.

prefix

 

=

 

'sfepy_

%02d

:'

 

%

 

comm

.

rank


    

output

.

set_output

(

filename

=

filename

,

 

combined

=

options

.

silent

 

==

 

False

)



    

output

(

'petsc options:'

,

 

petsc_opts

)



    

mesh_filename

 

=

 

os

.

path

.

join

(

options

.

output_dir

,

 

'para.h5'

)



    

dim

 

=

 

2

 

if

 

options

.

is_2d

 

else

 

3


    

dims

 

=

 

nm

.

array

(

eval

(

options

.

dims

),

 

dtype

=

nm

.

float64

)[:

dim

]


    

shape

 

=

 

nm

.

array

(

eval

(

options

.

shape

),

 

dtype

=

nm

.

int32

)[:

dim

]


    

centre

 

=

 

nm

.

array

(

eval

(

options

.

centre

),

 

dtype

=

nm

.

float64

)[:

dim

]



    

output

(

'dimensions:'

,

 

dims

)


    

output

(

'shape:     '

,

 

shape

)


    

output

(

'centre:    '

,

 

centre

)



    

if

 

comm

.

rank

 

==

 

0

:


        

from

 

sfepy.mesh.mesh_generators

 

import

 

gen_block_mesh



        

if

 

options

.

clear

:


            

remove_files_patterns

(

output_dir

,


                                  

[

'*.h5'

,

 

'*.mesh'

,

 

'*.txt'

],


                                  

ignores

=

[

'output_log_

%02d

.txt'

 

%

 

ii


                                           

for

 

ii

 

in

 

range

(

comm

.

size

)],


                                  

verbose

=

True

)



        

save_options

(

os

.

path

.

join

(

output_dir

,

 

'options.txt'

),


                     

[(

'options'

,

 

vars

(

options

))])



        

mesh

 

=

 

gen_block_mesh

(

dims

,

 

shape

,

 

centre

,

 

name

=

'block-fem'

,


                              

verbose

=

True

)


        

mesh

.

write

(

mesh_filename

,

 

io

=

'auto'

)



    

comm

.

barrier

()



    

output

(

'field u order:'

,

 

options

.

order_u

)


    

output

(

'field p order:'

,

 

options

.

order_p

)



    

stats

 

=

 

solve_problem

(

mesh_filename

,

 

options

,

 

comm

)


    

output

(

stats

)



    

if

 

options

.

stats_filename

:


        

from

 

sfepy.examples.diffusion.poisson_parallel_interactive

 

import

 

save_stats


        

if

 

comm

.

rank

 

==

 

0

:


            

ensure_path

(

options

.

stats_filename

)


        

comm

.

barrier

()



        

pars

 

=

 

Struct

(

dim

=

dim

,

 

shape

=

shape

,

 

order

=

options

.

order_u

)


        

pl

.

call_in_rank_order

(


            

lambda

 

rank

,

 

comm

:


            

save_stats

(

options

.

stats_filename

,

 

pars

,

 

stats

,

 

options

.

new_stats

,


                       

rank

,

 

comm

),


            

comm


        

)





if

 

__name__

 

==

 

'__main__'

:


    

main

()